Who We Are
About Us >
---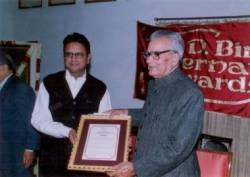 Started in the year 1962, Bhoruka Charitable Trust (BCT) is the vision of late Shri P.D. Agarwal (a businessman and a philanthropist) who was touched by the plight of the poor and underprivileged in his birth place, Bhorugram in Rajasthan. The result was the establishment of a social service institution for the upliftment of these underprivileged in 1962. Later, the South India Initiative of BCT was also initiated in the year 1996 which is headed by its Bangalore office. Presently, the trust operates in 23 districts of Rajasthan alone and 9 districts of three southern states of India.
The thrust areas of BCT, are Health (primary health, mother and child health, sexual and reproductive health, HIV/AIDS awareness initiatives, static and mobile health centers / units, and conducting around 5000 cataract surgeries annually), Education (targeting out of the school and life skills based initiatives, running a CBSE affiliated residential Intermediate School established since 1976 at Bhorugram and a Degree College started in 2012), Water & Sanitation (considered as the premier agency of Rajasthan to have worked on construction of more than 45,000 low cost toilets and on adopting a much different participatory approach towards dealing with issues related to rural Water Harvesting at community and household levels), SHG & Livelihoods (guiding more than 25,000 rural women through more than 2000 SHGs), Promotion of Visual Arts and some green energy initiatives esp. one that aims at providing smart energy in remote rural and tribal areas as well as Installation of 200 White LED based Solar Street Lights in Sinsini and nearby villages of district Bharatpur, Rajasthan.
Over the years, BCT's rural development works have been extensively recognized as a result of which we receive learners from many parts of the world round the year as Interns, and nationally our works have been recognized through some prestigious awards, some of which are - FICCI Annual Award (1991-92) in recognition of the institutional initiatives in the field of rural development, State Level award for distinguished services in the field of Family Welfare (1996-97), Pam Davar Award (1998- 99) in recognition of excellent work in the field of Rural Technology, GD Birla International Award (2002) for Rural Upliftment, Rajasthan State level awards for promotion of SHGs by NABARD (2002-03 & 2003-04), Surya Award from Karnataka Seva Foundation in the field of HIV/AIDS awareness program in Karnataka (2004-05), Golden Standard Award for the truckers program from TCI Foundation (2009-10) etc.
Our future directions/strategies are convergence and linkages with the government and non-government sectors in addressing higher level needs relating to empowerment, education, creating opportunity for livelihoods, natural resources management, water and sanitation, based on a sustainable development model. In the coming years, the Trust will work to save livelihood resources of the people, work for the inclusion of socially deprived groups, and present the real picture of the problems of the poor farmers and women and thus attract the attention of society and the government.