Donate for a Cause
Donate Now >
---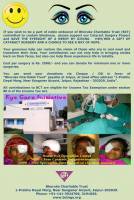 Donate now and change live permanently ……………
DONATE FOR A CAUSE
Give today to support BHORUKA CHARITABLE TRUST continue to REACH and SERVE the poorest of the poor. With your help, we can continue to make a difference in the lives of needy persons across the nation. BCT alone can't able to reach & assist them due to lack of funds. So support us to deliver quality services to the deprived and needy communities who are in need.
Please send your donation via Cheque/DD in favour of "Bhoruka Charitable Trust, Jaipur" at the following address along with your complete address and PAN No.
Bhoruka Charitable Trust,
HO: 1, Prabhu Dayal Marg, Near Sanganer Airport,
Jaipur-302029, Rajasthan, India. Ph: +91-141-3924700. Fax: +91-141-3924738.
Email: bct@iihmr.org / bct@bctngo.org